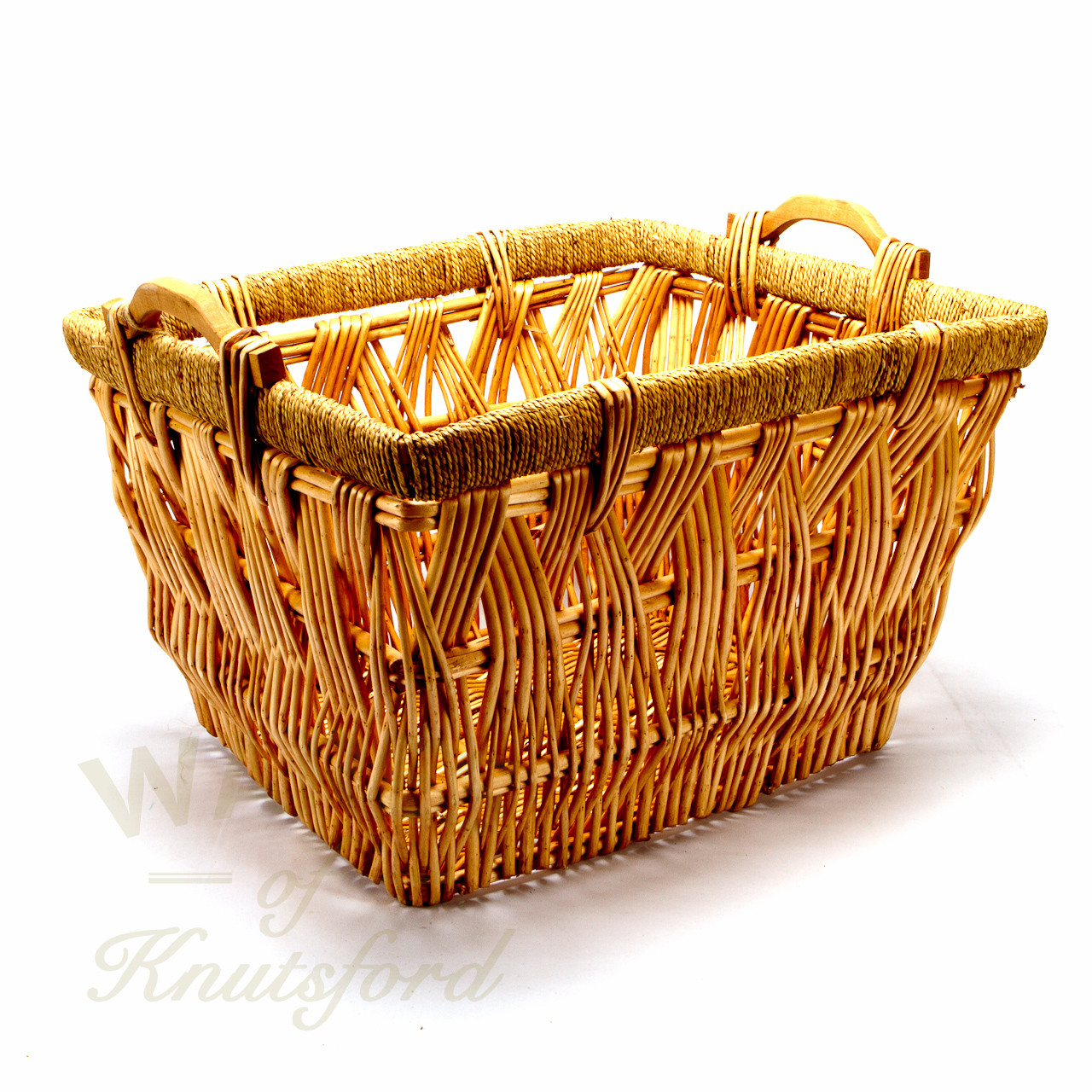 Humble wicker baskets are ideal for a number of uses – they not only provide practical but decorative storage but also securely lug around logs or shopping. You can even order a wicker coffin! A wicker basket in the corner of the living room or at the bottom of the stairs is ideal for corralling loose objects prior to returning them to their homes. Use a mixture of shapes, sizes and colours for a rustic look or line up a matching set in a more modern, minimalist décor.
Planting wicker baskets
You can plant up your baskets for an unusual and attractive display both inside and out, however unless they are designed to hold plants, they need some preparation first. Moisture and drainage are important issues, so either plant inside a plastic tub that fits neatly inside your basket, sitting on a draining tray, or line the basket yourself with plastic. A layer of small stones at the bottom of the plastic lined basket will provide both drainage and stability. Then fill the basket with potting compost to within about 4 inches of the top rim and plant away! You will need to leave a one inch space between the top of the soil and the rim of the basket to allow for watering. Wicker baskets look particularly fine with a display of grassy foliage and delicate flowers, such as scabious, rather than large, bold blooms and work equally well as hanging displays or sitting on the ground.
A bar from wicker baskets
Not many houses have the room (or the need!) for a full size bar in the living or dining room. However it's nice to be able to have a selection of drinks available for guests. Traditionally, silver trays work well for this purpose, but if you're looking for something a bit more relaxed, try rustic wooden or wicker baskets. The basic bar will need a selection of glasses – four highballs and four tumblers should do it. Then you'll need some drinks – gin, vodka, rum and whiskey to start, then you can consider adding some liqueurs such as Tia Maria, Chambord, Triple Sec, Amaretto and Cointreau., or anything else that's a regular favourite. If you're a fan of cocktails, add a shaker and a stirrer. For parties or other events you'll need to add extra ingredients such as ice, mixers and garnishes such as lemon and olives, but a simple range of basics is usually sufficient on a casual, everyday basis.
Share and Enjoy