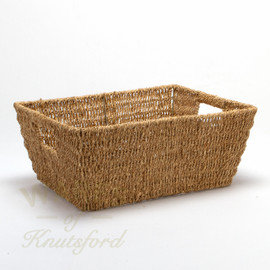 Natural materials such as wicker, jute and seagrass are a great way to add a coastal or modern rustic look to your home. A neutral backdrop using neutral colours, wood and natural decorative elements is given life and individuality with a pop of bold colour here and there, such as a turquoise vase or purple cushion.
Seagrass grows in salt water paddy fields and is native to China. Its sustainability makes it very environmentally friendly, like bamboo and it is robust and clean with natural stain resistance properties. Seagrass is particularly suitable for those who suffer from allergies.
Organise your kitchen with seagrass baskets
Open shelving and freestanding units lend an open, relaxed feel to modern kitchens, but unless you're the ultra-organised type there's a risk of looking cluttered and messy. Baskets for storage help to keep your gadgets and kitchen tools tidy without looking too formal. Use a selection of sizes according to the items you need to store.
If you're going for a pretty, more feminine feel, tie coloured ribbons around the handles of the baskets. This works particularly well in a modern country cottage. Consider dipping the bottom halves of the seagrass baskets into paint for an individual look – blue and white fit a seaside, nautical theme, with other natural elements such as driftwood and seashells.
Bigger, taller baskets are great for bulkier items such as pots and pans, sliding easily in and out of open units while shallower models act as trays for easy access organisation. The softer bottom and sides are great for crowded kitchens or if you're a bit clumsy, acting as cushioning for more delicate items such as crockery and glassware.
Use seagrass baskets all over the house
Baskets for storage work well in any room of the home. They act as convenient storage for blankets, towel and bed linen upstairs and are perfect for organising smaller items such as cards, craft and hobby utensils and especially children's toys. Beauty products, keys and your post can all be kept neat and leave your house uncluttered.
Particularly useful are the seagrass baskets shaped to fit on the staircase, used to temporarily house upstairs clutter and debris that has made its way downstairs. Rather than pile it all on the stairs until someone next goes up, keep it tidily in the specially designed basket, then take it upstairs and empty it every evening.
You can find seagrass in endless forms apart from the traditional seagrass baskets for storage. Bowls, rugs, seat pads and place mats are all commonly found in seagrass, as its durability and easy-clean properties make it suitable even for high-traffic areas.
Share and Enjoy