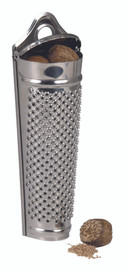 Nutmeg has somehow become synonymous with Christmas recipes, but in fact has the potential to add a touch of magic to various dishes all year round. While its rich, warm tones add cosiness to the colder season, it's a far more versatile spice than it may first appear, often used on milky and custardy desserts, while teenagers have shown a particular propensity for using it to get high!
Nutmeg and its lesser known sibling, mace, are both extracted from the fruit of nutmeg trees. Nutmeg comes from the brown seeds and mace is taken from the red membrane covering the seed shell. Nutmeg is sold whole and ground, but using a small gauge grater on the whole nut is believed to release a better flavour.
While sweet, elegant nutmeg recipes has fallen out of fashion somewhat in British cooking over the last few years in favour of bolder flavours such as chilli, there's a delicious list of what to make with nutmeg that could earn it a revival some time soon. When most people think of what to make with nutmeg they go for wintery dishes, but don't hesitate to grate a little nutmeg onto your morning porridge, eggy bread or even fruit salad to give it an extra depth of flavour. Nutmeg is, after all, a product of the warm Spice Islands and so is very at home with fruit.
Savoury nutmeg recipes
Broccoli and stilton soup
350g broccoli, chopped
400ml vegetable stock
25g butter
4 spring onions, finely chopped
50g Stilton cheese, crumbled
100ml double cream
Whole nutmeg
Add the broccoli to a large bowl and cover with the vegetable stock. Clingfilm the bowl and microwave on full power for 4-5 minutes, until the broccoli is tender.
Melt the butter in a frying pan and add the spring onions when it starts to bubble. Cook for about a minute.
Add the broccoli, stock, spring onions, Stilton and cream to a food processor and blend until the soup reaches a smooth consistency. Pour the soup into a saucepan and heat gently until simmering. Season to taste, grate over some fresh nutmeg and serve topped with croutons.
Sweet nutmeg recipes
Exotic banana smoothie
1 banana, peeled and sliced
250ml milk
1 teaspoon honey
Whole nutmeg
2 teaspoons chopped hazelnuts
Add the banana, milk and honey to a blender and grate over a little nutmeg. Whizz until smooth. Serve immediately, topped with the chopped hazelnuts.
Share and Enjoy