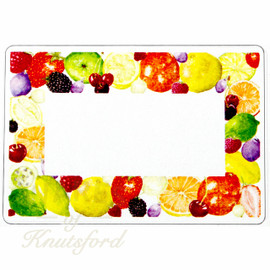 Home-made jams seem to encapsulate the flavour and spirit of summer. Made with the ripest fruits, home-made jams along with preserves, chutneys and pickles of all kinds, make delicious and very personal gifts all year round.
Pretty up your jam jar
Dressed in attractive, personalised labels the jars look bright and colourful. However to really stand out, consider adding jam jar covers. Round pieces of fabric are traditionally printed with a gingham or spotted design, but any fabric is suitable. Jar covers are not only a great way to use up fabric offcuts but make your jam jars look unique and individual at the same time. The jar covers can be secured with simple elastic bands but look more elegant if you use traditional string or a pretty ribbon.
Mini jam jar
Mini jars can be decorated in the same way as full size versions. These make great favours for a wedding or other special event, particularly when labelled and dressed for the occasion. If you have regular house guests, adding a selection of pretty mini jam jars to a basket on the breakfast table, in the style of a charming boutique hotel, is a lovely touch to make breakfast feel indulgent.
There are lots of pre-designed, downloadable jam labels available online that allow you to customise the information used to suit your needs. However this is one occasion when the intimacy and personal nature of hand printed labels suits the occasion. Buy adhesive labels featuring the fruits or vegetables used in your recipe or go for something more unusual such as a glitter design or a trendy union flag or royal crown motif. Alternatively you can arrange for the label to be decorated with the same pattern used on the jam jar cover.
Basic information you should include on the label might be the flavour, the production or use by date, storage instructions and an ingredients list. Labels for special events may want to make a note of the relevant details, while a cute, personal touch is to add a label at the back of the jam jar showing a home devised recipe in which the gift recipient can use the product. Coloured pens and careful calligraphy are optional but can look very artistic.
If there's lots of information you want to convey but don't want the jar labels to look crowded, use the adhesive labels for the most important information, then print the rest on some pretty or rustic card and attach to the jam jar via the ribbon or string used to secure the jam jar cover.
Share and Enjoy