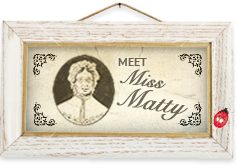 She is the Wares of Knutsford mascot. Readers of the novel 'Cranford' by Victorian author Elizabeth Gaskell will be familiar with the character and her sister Miss Deborah, a couple of spinsters who punctuate the life of the story's narrator, Mary Smith. The main event in the novel is the return of the sisters' brother, Peter Jenkyns, to Cranford.
The novel first appeared in serial form in the magazine Household Words in 1851 before being published as a complete novel in 1853. It has since been adapted for television three times by the BBC, with Miss Matty played variously by Gabrielle Hamilton and Judi Dench.
Cranford as featured in the novel is based upon Knutsford, the home of Elizabeth Gaskell in the early 1800s. Gaskell's writing is notable for its social commentaries upon Victorian life and the role of women, with the author part of an illustrious literary circle including Charles Dickens, Harriet Beecher Stowe and Charlotte Bronte. Gaskell's best known works are probably 'North and South' and 'Wives and Daughters.'
Who is Miss Matty to Wares of Knutsford customers?
Wares of Knutsford customers will be familiar with the icon we use next to some of our products. She is there to highlight particular features of certain products and give tips and helpful advice on how items can be used.
The character was chosen to represent Wares of Knutsford's traditional values of customer service and value for money.
When the shop originally opened in the town in 1992, focusing on hardware items, the owner placed a book on the counter and asked customers to note down in it which products they would like the shop to stock. Wares has always believed in supplying what our customers want, at the right price and in a friendly and efficient manner. Retail culture may have changed dramatically with the advent of the internet but the philosophy still applies as represented by our mascot.
The mainstay of the company is bottles, jars and preserving equipment but the Wares of Knutsford kitchen range has expanded enormously over the past few years to include all manner of traditional kitchen goods such as enamelware, baking and cooking equipment from well known brands such as Mason Cash and Kitchen Craft and a number of more modern kitchen tools and gadgets.
Furthermore, Wares of Knutsford is part of a thriving online community with busy Facebook and Twitter pages plus a regular blog and newsletter where customers can find recipes, competitions and a number of useful tips and ideas on cooking and various household subjects.
Share and Enjoy